Policies/procedures are subject to change as local COVID-19 policies/procedures change. We will try to keep this as up to date as possible. *Updated : 1/2/2021*
Per PA State Guidelines, all gymnastics and staff members must wear a face mask at all times in the gym unless it poses a safety hazard. Coaches will direct a gymnast to temporarily remove his/her mask when necessary.
What are the cleaning and sanitizing guidelines AJS will instill during day to day activity?
---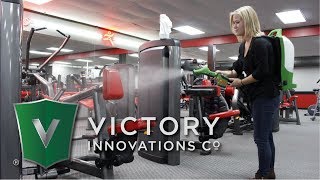 AJS will follow all CDC guidelines and protocols for proper sanitation within our facility. These include (1) Multiple hand sanitizers (that will be distributed by coaching staff) at each event as well as entry and exit of the building. Please bring your own hand sanitizer if possible. (2) A high quality Electrostatic Sprayer will be sprayed onto mats/equipment after each camp shift (3) All light switches, handles, and counter tops will be wiped down by staff at a minimum every hour or as needed (after use) (4) Gymnasts must wear a mask upon entering the facility, when taking a bathroom break, and upon leaving for the day. Class instructors will wear a mask at all times in the gym, unless it becomes a safety hazard. (5) Gymnasts and coaches will sanitize their hands upon switching to a different station. (6) Areas/zones in the gym will be cleaned and sanitized in between rotations and arrival/departure.
---
What does a typical arrival at AJS look like?
---
(1) There will be seperate entrances and exits to ensure no bypass contamination. Please follow signage and/or staff direction when you arrive. (2) Drop-off Procedure (if you are not staying): Pull into the gym parking lot and park. You may walk your child to the appropriate entrance but it is preferred that parents not come into the gym at this time. See above parking procedures if you plan to come into the gym and stay. Please do not send your child in until a staff member is there to screen and assist. (3) Each gymnast's temperature will be checked by our Touchless Thermometer as soon as he/she enters the gym. If his/her temp is over 100.4, he/she will have to leave the facility. (4) Please review these questions before you come to the gym. If you can answer "yes" to any of these questions, please keep your gymnast at home. - Have you had any signs or symptoms of a fever in the past 24 hours such as chills, sweats, felt "feverish" or had a temperature that is elevated for you/100.4F or greater? - Do you have any of the following symptoms? Cough, Shortness of Breath or Chest Tightness, Sore Throat, Nasal Congestion/Runny Nose, Myalgia (Body Aches), Loss of Taste and/or Smell, Diarrhea, Nausea, Vomiting, Fever/Chills/Sweats - Have you traveled internationally in the last 14 days? Or, have you had any close contact in the last 14 days with someone with a diagnosis of COVID-19? - In the last 14 days, have you traveled to any of the states noted here: https://www.health.pa.gov/topics/disease/coronavirus/Pages/Travelers.aspx? (4) If cleared, the gymnast will enter the building, sanitize their hands, and walk to a designated streching spot on the floor that will be 6 feet from teammates. At this time, your mask can be removed and put directly into your bag.
---
During training, what is the procedure for bathroom breaks?
---
(1) Each gymnast must wear their mask. (2) Bathroom doors will already be propped open. (3) Using a papertowel to open the stall door as well as turn on and off the sink faucet when washing hands. Gymnasts and staff MUST wash their hands for 20 seconds before leaving the bathroom. *Office staff will regularly clean bathrooms every hour or as needed*
---
Can parents sit in the lobby?
---
For the health and safety of all, it is preferred that parents not enter the lobby area for the time being, until restrictions are relaxed. However, we realize we cannot prohibit parents from watching their daughters per SafeSport policy. Per CDC guidelines, we can allow 4 parents/caregivers at a time to be in the lobby at one time and they should stay 6 feet apart. Please be courteous to others and limit your time in the lobby to just a few minutes so others can have time in there as well.
---
Will the coaches be spotting my child?
---
Athlete safety is paramount, we will not restrict coaches from spotting an athlete if necessary, to protect them from injury.
---
What necessities should be in my childs gym bag?
---
Items marked with * pertain to our competitive team girls only 1*) Tape/prewrap if needed - we will continue to sell tape in the office at $3/roll
2) Bandaids
3*) Theraband
4*) Wrist weights
5) Filled water bottle(s) – Make sure you have enough. Water fountain cannot be used to refill.
6*) Grips (if she wears them)
7*) Scraper/grip brush (if she wears grips – this is just a grill brush)
8*) Tape shark (if you want it to cut off tape)
9*) Filled small spray bottle (if she wears grips)
10) Extra hair supplies (brush, ties, clips, bobby pins)
11) Personal hand sanitizer if you have some - we will have sanitizer in the gym/office/lobby area
12*) SNEAKERS – when the weather is nice they will do some conditioning/strength outside.
13) Tissues/kleenex 14*) Towel to sit on in case they go outside
---
What does the departure at AJS look like?
---
After practice is complete, each gymnast will sanitize their hands, put their mask back on, and leave through our designated EXIT in single file. Team member pickup procedures will be the same as arrival.
---
How many gymnasts/staff are allowed in the gym at a time?
---
We will abide by the current local government maximum COVID-19 occupancy requirements at all times, utilizing the main gym, the back gym and the ballet/dance room. Numbers are subject to change as local guidelines change.
---
What are Parent/Guardian responsibilties?
---
(1) Talk to office staff about the gym's new safety protocols if any questions arise (2) There will be a basket near the entrance for your child to drop a check if you need to make a payment by check. Electronic payments can be done online via the Payment link on our website, or if there is a staff member in the office, you can pay at the window. (3) Ensure the child and immediate household members are free from illness before coming to the gym (4) Talk to your child about keeping a 6 foot distance from others and following gym guidelines (5) Parents should refrain from gathering in groups (6) Ask any parents in the gym to use hand sanitzer and recommend the use of masks or face coverings at all times in the facility
---
What should my gymnast do before coming to the gym?
---
Every child should have a temperature check before leaving for the gym. If a temperature is over 100.4 (CDC guideline), please do not come to the gym.
Please make sure your child uses the bathroom before coming to the gym to keep bathroom usage in the gym at a minimum.
Gymnasts should be dressed in workout apparel and ready to work out. We prefer that gymnasts not use the bathroom for changing if at all possible. All belongings/clothing/shoes should stay in his/her bag or with a parent. Cubbies will not be available for use.
Please make sure your child has eaten before coming to the gym. If her group will be in the gym long enough to take a snack/meal break (pertains to team only) please make sure she brings her own snack/meal. The vending machine is not currently available.
---
What steps will be taken for breaks on hot days during the summer?
---
On warm days, gymnasts will be allowed to take short breaks in the lobby area on a rolling basis using social distancing every hour or so.
Coaches will also make sure that gymnasts are taking regular water breaks at all times.
---
What actions will be taken in the case that someone in the gym (staff or gymnast) is exposed to someone with a suspected or confirmed case, or if someone in the gym (staff or gymnast) has suspected symptoms or tests positive for COVID-19?
---
If this happens, we will adhere to the current CDC procedures for cleaning/disinfecting and decontaminating necessary areas in the gym and requiring necessary quarantines per their guidelines.
---
---